J. M. Blum - Fantasy Author
The Forbidden Dæmyn - Fantasy Novel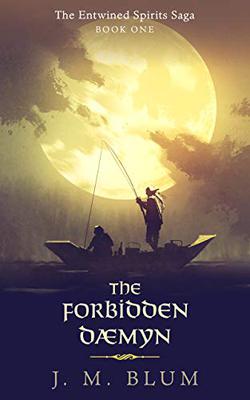 She no longer dreams of mighty conquest. Now she only dreams of return.
This is the tale of Lîlît Gamaliel, an elderly dæmyn forbidden from adventuring with the ærendmyn she loves until she can prove that fate has not abandoned her. To regain that companionship and her own pride, she engages in agonising struggles against fierce monsters deeper in the chaotic void than anyone has ever dared go.
Gavríæl is a Trueborn ærendmyn. Lîlît is an arch-dæmyn. They are forever entwined.
J. M. Blum's enthralling debut, The Forbidden Dæmyn, is the first book in the Entwined Spirits Saga. This is a never give up book featuring the strongest female lead character known to fantasy. It is a mighty warrior's attempt at redemption in a battle with a forbidden obsession, but will it be the pride before her fall?
This fantasy series uses rich and powerful imagery. It describes the eternal struggle of love and mortality between the Trueborn ærendmyn, Gavríæl Kheruvîm, and sultry arch-demon, Lîlît Gamaliel. Each book is set in the magical fantasy world of Sefirot. These are standalone modern literary myths embedded in an overarching epic of unconscious desire, repression, and transcendence. Filled with mythical creatures, they draw from rich traditions of sacred writings, spirituality, Kabbalah, Angelology, and Demonology. Fans of fantasy, fantasy gaming, gamelit, myths, folklore, and legends will love this series for years to come.
Out now… The next book in the saga, First They Came for the Minùtemyn.